There's much more to the SERPs (Search Engine Results Pages) than just your page title, URL, content, and meta tags.
Let's speak, strictly appearance-wise, what control you have over your SERP results. For this, let's start by looking at an example of the most basic result type:

We can see three spots in which we have control of the listing appearance: title, URL, and description. Depending on the search done, a forth basic factor might have been included, the keywords of the content.
Now, there are many additional visible and hidden factors to your result appearance and performance in the Google index. I'm not going to talk about the performance (or placement) of your results necessarily or even PageRank or SEO. I'm merely talking about enhancing the result's appearance themselves. I'm going to attempt to list all the possible visible variables of your website SERP results in Google.
Let's start with a result example that contains almost all the extras: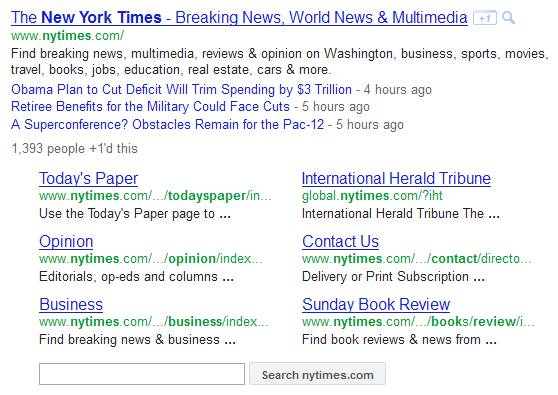 Title

You control the keywords and professional appearance of the title with the <title></title> tags of every page on your site. I advise putting the most pertinent details first like so: Page Title | Site Title.
URL

You control the original registering of the domain, of course. I advise choosing a friendly, short, and easy to remember domain name. There are two other ways in which you can control the appearance of your URL. Canonicalization and setting your preferred domain: either www or non-www via Webmaster Tools. I personally recommend non-www.
Description or Content

You control the keywords and professional appearance of the description with the <meta name="description" content="Hello, this is the description of your page." /> tag of every page on your site. You also of course control the content of your pages and how well you've written them.
Updates (Latest News)

For authoritative, informational websites, a list of the latest news articles may be shown.
Dates (And Other Stamps)

You control whether or not to date articles you write. Google can also pick up other stamps, like reply count, commenter count, and breadcrumbs.
+1 Votes

+1s essentially represent a thumbs up from readers. Not only do they impact your result placement, but they also serve as a visual badge of quality for those about to visit the site. I've written a simple Google +1 script to place on your pages here.
Sitelinks

Sites with enough popularity and visitors will get their own Sitelinks, essentially a quick menu to popular areas of interest on your site. There is nothing you can do to manually get Sitelinks added. You can, however, remove ones you don't think are a good fit via Webmaster Tools once you have them.
Custom Search

For those sites that are already using Google Custom Search and that are also very popular with a large amount of articles, can have a custom search box placed with their SERP result.
SERPs Result Placement
Of course, the biggest obsession is the actual placement of your results. The goal of course is to land on page one, first natural result for desirable keywords and keyphrases. There are over two hundred factors in deciding a pages overall quality and relevance.
Most obsessed over, are quality of content, backlinks to your site, and PageRank. Again, this article is not specifically about SEO and Marketing.
UPDATE — Wow, I missed a lot! I had no idea, really. There are 100s of ways to improve the SERPs of your websites. It's called Schema, and it's beautiful. I seriously missed the memo on this one.